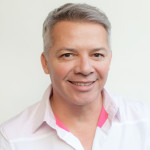 Sam Hayes
Colorist, Stylist & Partner
Union Square
Some dPT stylists are experts at precision cutting. Some are artists with haircolor. Give Sam Hayes Jr. a stack of hairpins, a teasing comb and some hairspray and he's in his own blissful world.
"My forté is hairstyling — really dressing hair. That means updos, bridal work, special event hair, period and/or decades hair. Love, love, love!" he says. "Anything involving these things means there is a party about to happen!"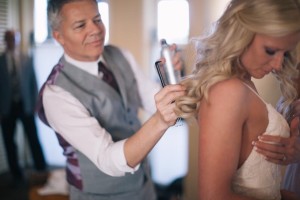 The notion of transformation has appealed to Sam since the get-go. As a kid, his mother was a low-maintenance type. When she needed her hair done, she'd visit a hairstylist named Tommy, who lived around the corner, and Sam would tag along and watch. "On those special occasions or holidays, my mother would go over and he'd do her hair at home," Sam recalls. "The transformation that occurred in that kitchen still elates me to this day. He was magic!"
Sam attended cosmetology school in Sacramento at 17, then enrolled in a masters course at the L'Oreal Institute in New York. After that, he went to work as an in-house stylist at a modeling agency.
"That was a great time for me," he says. "We got to work on runway shows, photo shoots and TV commercials on both the East and West coasts. I learned the production end of fashion shows and eventually started my own production company while doing hair full time."
Sam has worked closely with fashion events that raise funds for various causes, his favorite being Macy's Passport Events. "Those were the most fun. Not only was it for a good cause, but they had great after-parties and celebrity involvement." He's also traveled the world for his clients — so much that Town & Country Magazine named him in their "guide to hair and makeup pros who don't leave home without their passport."
After his stint taking classes in New York, Sam returned to California and bought his first house at 23, and then went pro with his passion for photography. He produced a successful photography show built around another of his passions: vintage cars. (Maybe you've spotted him tooling around town in his gorgeous baby-blue '57 Thunderbird!) Also, you can see his photography work in diPietro Todd's professional imagery and salon events. He does relax every once in a while, at home with his "fur babies," cats Beignet (Benji) and L'il Pound Cake (Lily).
Inspired by design in all its forms (fashion collections, cars, you name it) Sam has thrived at diPietro Todd, mainly because of the many opportunities he has to satisfy his insatiable creative drive. But the main thing he loves about being a stylist is making the world a little happier, one guest at a time.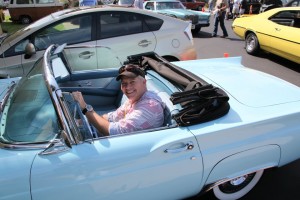 "The best part of my job is that instant gratification that comes with being a stylist. In one hour you can really make a difference in someone's life! I know that sounds a bit dramatic — but it's true." His ultimate goal? "Being able to do this for the rest of my life!"
Comments