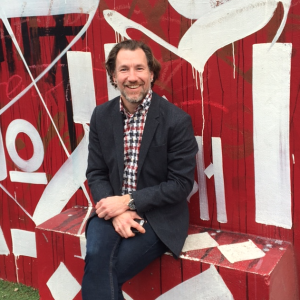 CHRIS DAVID
Stylist & Co-Owner
Palo Alto
When chatting with Chris David, feel free to bring up topics as diverse as theater, music, international travel, flower arranging, and how to cut a killer bob. Just please don't sing THAT song to him.
"I attended beauty school in Virginia but dropped out … and yes, I've had the song sung to me countless times!" Chris says. "My real education came in two stages: first as manager of a high-end salon in D.C., and then through dPT's Assistant Development Program. It was there I learned to cut and style hair with the utmost precision."
In truth, Chris' education started back in Detroit, where he grew up as the youngest of eight. "My parents brought us up with a strong work ethic and I hold my father as the ultimate role model," Chris says. "He taught me to be kind, work hard, stay good and current in what you do, wake up each day with a smile, and try to share that smile with someone else."
Today, after advanced training in all things hair cutting and salon business practices, Chris is one of dPT's most influential cutting specialists. "Back in 2006, San Francisco magazine named me the 'Best Haircut under $100.' That being said," he adds, "my prices have increased since then!"
His signature cuts are modern takes on clean, classic looks. "I love cutting short hair, curly hair, and men's hair," Chris says. "I embrace the opportunity to show people how good their hair can look with little effort."
Even when he didn't create their look himself, Chris takes enjoyment from seeing clients get up out of their chairs feeling fabulous. "I know it's cliché, but making people happy and feel great is what I love most about my job. Watching a client leaving the salon with a bounce in their step is fantastic."
The road from a kid in Detroit to a dPT partner has not been easy, but Chris has landed right where he wants to be. "The best part of being here is working for a company that has such a great reputation and high standards. Being surrounded by amazingly creative people with such high energy is fantastic.
"dPT has the ability to take anyone's dreams and help them come to fruition," he says. "When I started here I swept, I shampooed, I learned to cut slowly but surely … and now my name is on the front door. Well not really," he laughs, "but it is written underneath in small print with a Sharpie!"
Comments